Hello everyone, Full Tosser here. Whilst driving along and listening to Flight of the Conchords (in particular: Cheer Up Murray) I had this idea, why not match the sadness that must be being felt by Andrew Strauss to this song, and here is what was produced. The clip is the song, with the lyrics changed for poor ole Straussy underneath. Enjoy :)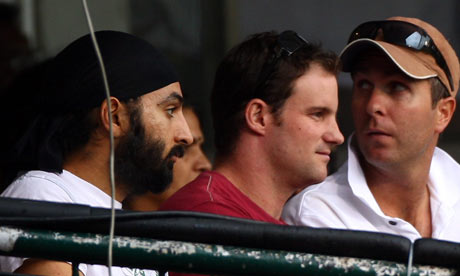 Cheer up Andrew , don't let it get you down,
Pick yourself up, off the ground,
It's gonna be…. Alright :)
Cheer up Andrew; you look a little sad,
Your life ain't so bad, just think of all the good times.
Remember your thirty first birthday; you threw a great big party.
And all of your friends were there for you: Bell, Vaughn and Freddie.
They brought you a cake in the shape of lions by three,
'cos they all thought you were pommy…
You've got some runs, didn't you Andrew
You got lots of runs, a couple of years ago.
You've got some kids, don't you Andrew
Best thing you've produced in years
(and you didn't do it on your own)
And you've got a job,
you've got all of your limbs,
you've got a shit house team,
that you're expected to lead
You're good at bein' fucked, by the ECB
You've got good form, but it mostly goes….
KP doesn't return your calls, he doesn't return your calls.
The ECB will call you softy balls, they call you softy balls.
Those people don't know what they see, they just see softy balls.
Softy balls.
Cheer up Andrew, it's time to forget,
Your team scored 51 outta the nets,
Let's go train on an esky…
Cheer up Andrew so nothing goes your way, it's the same everyday
Well tomorrow is another day….